The add-on recommended installation method is using the lightweight installer. Lightweight add-ons are installed by using the SAP System Landscape Directory (SLD) Extension Manager website. The add-on is installed once at the SLD, and then the SAP client application running on every workstation or server on your network will handle the local installation. The lightweight package is a zip file and contains versions for 32-bit and 64-bit SAP clients. The zip package is uploaded to SLD without unzipping it. Make sure to:
Run the SAP client with Administrator permissions when installing or upgrading the add-on, so SAP has the permission to write or replace the add-on files.

When upgrading, make sure no add-on processes are running in the machine, because files cannot be replaced if are being used.
To open the Extension Manager you can use the link provided in the Add-On Administration module in SAP: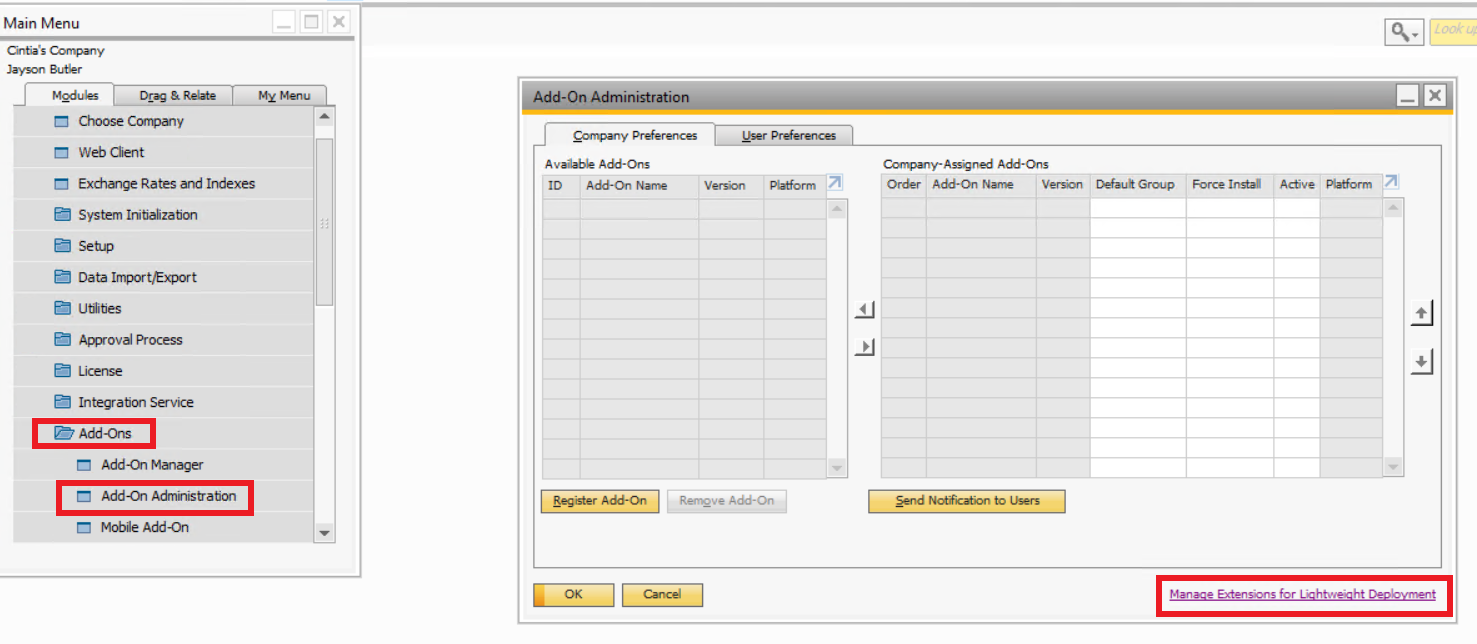 Import the add-on at the Extension Manager
This is the SAP Extension Manager. To import the add-on, you have to click on the Import button. Click Browse, select the .zip lightweight package, and then click Upload. Then click next until the installation completes.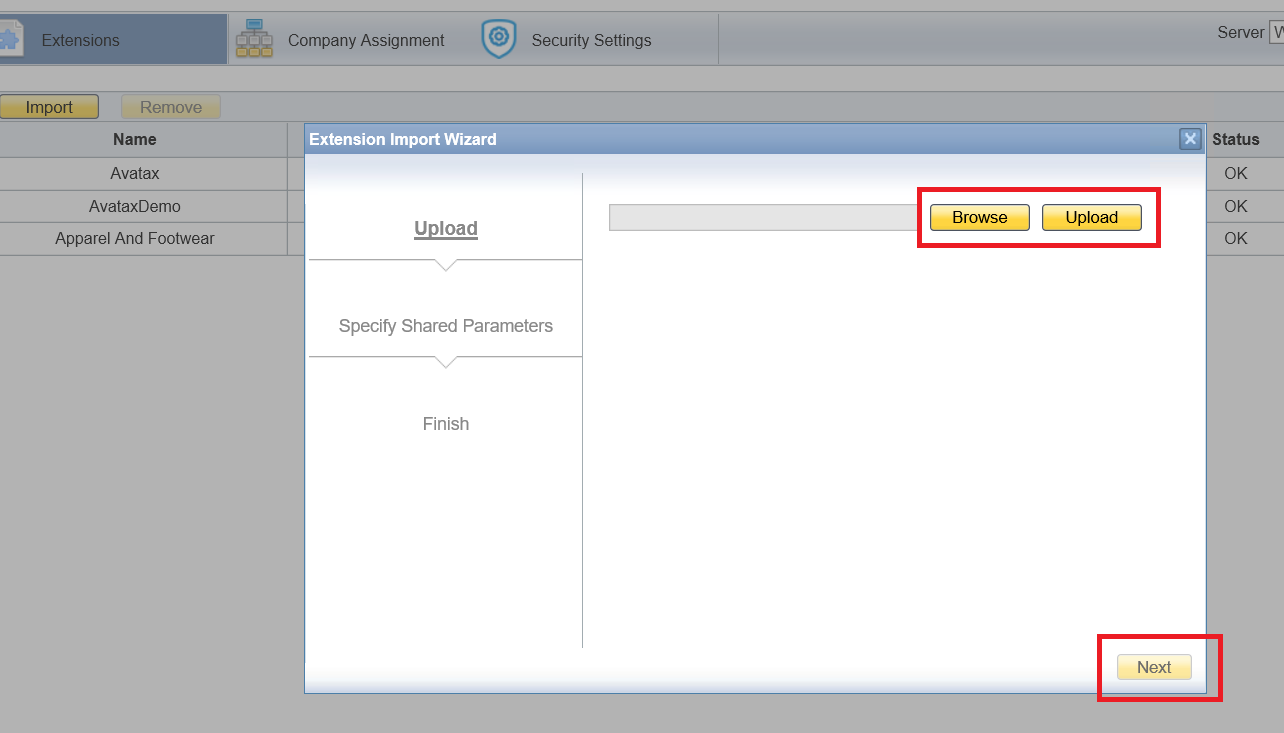 Assign the add-on to SAP Companies
After installing the add-on, you have to assign it to the desired companies. The add-on is installed once on the server and can be used by several SAP companies, for example, your Production company and your Testing companies. For this task, go to the Company Assignment tab in the Extension Manager. In the Company List on the left-hand side, click on the desired company, and then choose the Avatax add-on on the list of available extensions.

Configure the add-on start-up mode
At the StartUp mode step, you can define if the add-on has to start automatically, manually or it's disabled. If you want the add-on to start immediately when SAP starts choose automatically.   You can also update the default start-up mode, or set specific start-up modes for specific users after the add-0n is installed. Click on the Edit link in the Setting column, to edit the start-up modes: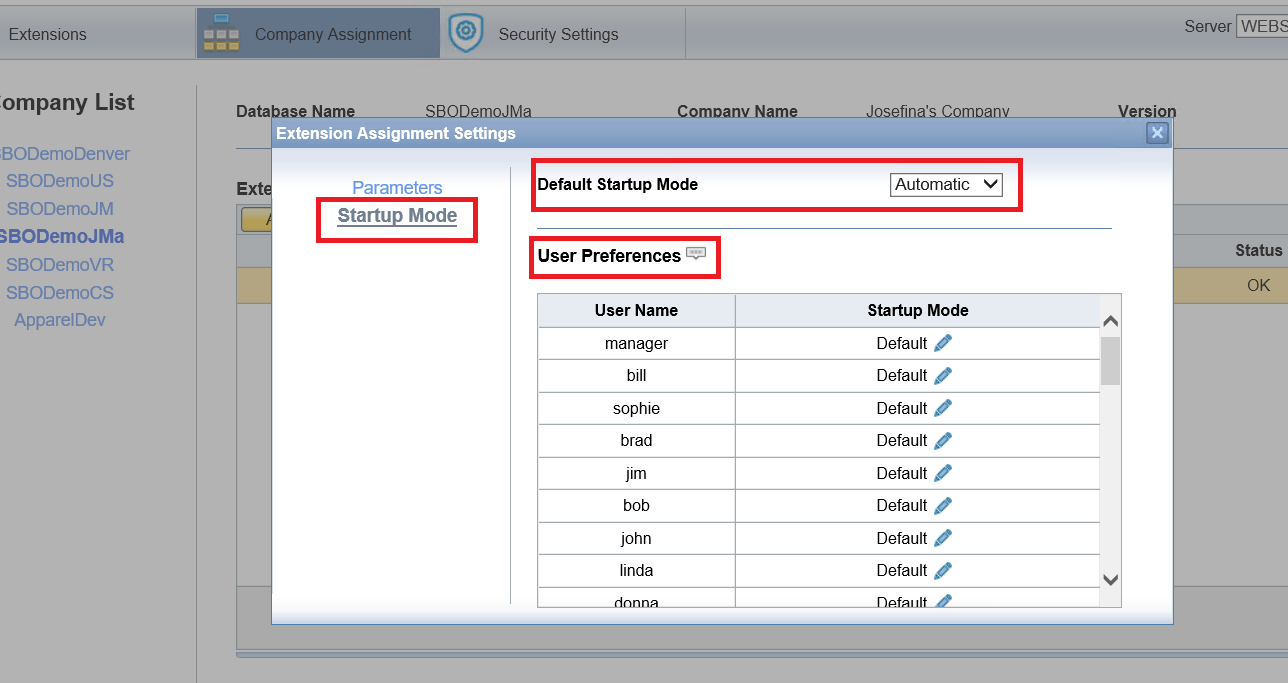 Run SAP
After installing the add-on at the Extension Manager, run SAP as an administrator. If you already have SAP open, you have to log out and log-in again. SAP will check for new extensions installed and will complete the installation. You will see a message in the SAP System Messages Log, indicating the add-on is installed.  
Upgrading the add-on
When upgrading to a newer version, follow the same steps described, but consider the following: Before restarting SAP check no Avatax add-on processes are running in the machine. You can check this by opening the Windows Task Manager. If there are SBOAvatax.exe processes, you have to terminate them first, otherwise, the upgrade could fail.  
Run the add-on
After the installation is completed, the Avatax add-on will appear in the Add-on Manager module: